Unbelief of Wilderness Wonderings
Themes By Chapter
Book Summary:
Why is it called numbers? Because Israel were counted twice in chapter 1 and 26. The thrust of the book is the wilderness wonderings becuase of unbelief.
Unbelief hinders what God wants to do in our lives – it was because of unbelief that the children of Israel could not enter into the promised land. After spending one year and 1 month at mount Sinai they traveled to Kadesh at the southern border of the promised land but they did not trust God – "we should choose a leader and go back to Egypt. (numbers 14:4) This book shows us there unbelief which stopped them entering into the promised land immediately and instead had to wonder around in the wilderness for forty years. Their fear disqualified them from entering into the promised land. This book has also been called 'the book of murmurings' because it is filled with the spirit of rebellion from the children of Israel.

The first chapter we see Moses taking a census of the children of Israel – "God knows who are His" (2 timothy 2:13) He knows what we need, we can trust Him, we get to trust Him in every difficulty – " we can put difficulties between us and God and say we are not able or like the two we can put God between the difficulties and ourselves and say we are able."

Moses misrepresented God when he smote the rock for the second time saying "must we bring you water out of this rock" – he misrepresented God for He was not angry with them. Despite the fact Moses disobeyed God by smiting the rock instead of speaking to it water still came out of the rock – for God is still faithful even when we are not.
Structure:
1. Preparation for the Jouney (1-12)
2. Guided by the Cloud (9)
3. Wilderness Wonderings (12-20)
4. Report of the Spies (13)
5. Israel's Unbelief (14)
6. Into the Promised Land (20-36)
7. Water from the Rock (20)
8. Balaams Feast (22)
9. City of Refuge (35)
Key Verse:
Numbers 14:11 - "Then the Lord said to Moses: "How long will these people reject Me? And how long will they not believe Me, with all the signs which I have performed among them?"
Christ Portrayed as: The Sustainance of Life
Author: Moses
Illustrations
Plan of the Tabernacle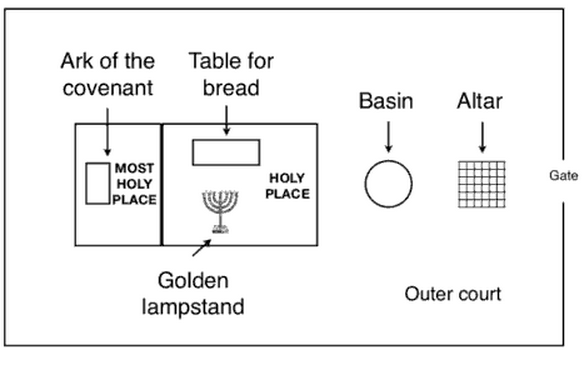 How the Tribes Camped around the Tabernacle