Never miss a post
16 Bible Verses about

Fishing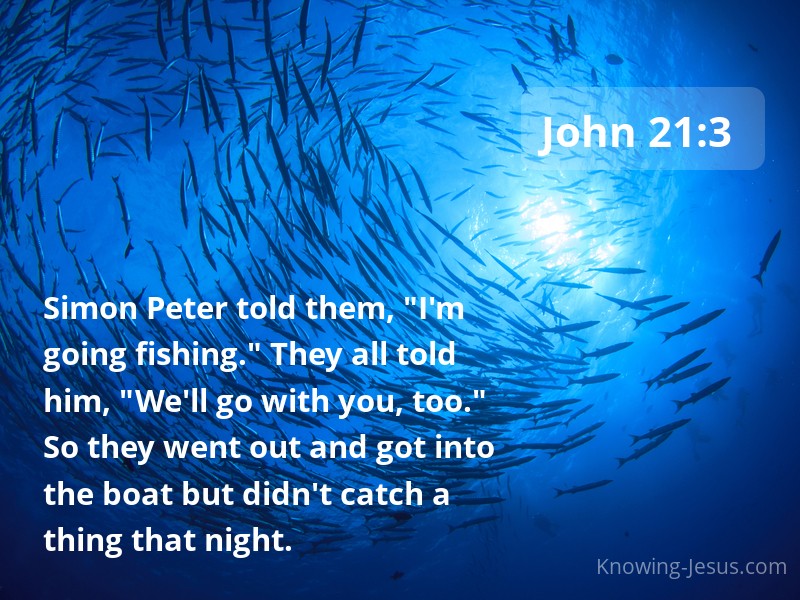 From Thematic Bible
---
Matthew 4:21
Going on from there he saw two other brothers James, son of Zebedee, and his brother John. They were in a boat with their father Zebedee repairing their nets. When he called them,
Luke 5:4-9
When he had finished speaking, he told Simon, "Push out into deep water, and lower your nets for a catch." Simon answered, "Master, we have worked hard all night and caught nothing. But if you say so, I'll lower the nets." After the men had done this, they caught so many fish that the nets began to tear. read more.
So they signaled to their partners in the other boat to come and help them. They came and filled both boats until the boats began to sink. When Simon Peter saw this, he fell down at Jesus' knees and said, "Leave me, Lord! I am a sinful man!" - because Simon and all the people who were with him were amazed at the number of fish they had caught,
John 21:3-8
Simon Peter told them, "I'm going fishing." They all told him, "We'll go with you, too." So they went out and got into the boat but didn't catch a thing that night. Just as dawn was breaking, Jesus stood on the shore. The disciples didn't realize it was Jesus. Jesus asked them, "Children, you don't have any fish, do you?" They answered him, "No." read more.
He told them, "Throw the net on the right hand side of the boat, and you'll catch some." So they threw it out and were unable to haul it in because it was so full of fish. That disciple whom Jesus kept loving told Peter, "It's the Lord!" When Simon Peter heard that it was the Lord, he put his clothes back on, because he was practically naked, and jumped into the sea. But the other disciples came in the boat, dragging the net full of fish. They were only about 200 cubits away from the shore.
Related Topics